A new year, a new strategic asset allocation
Chief Investment Officer's team, 03.01.2021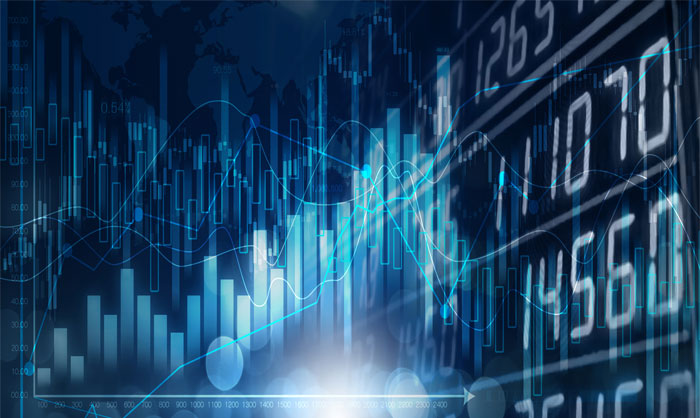 AT A GLANCE
2020 was terrible for the world but exceptionally positive for financial markets
Our three recommended profiles delivered double-digit returns last year
Our Strategic Asset Allocation has been reshuffled with more Emerging Markets than ever.
Let us start by wishing you a very healthy, happy and prosperous new year for you and your beloved. Please be sure that all the Wealth Management teams at Emirates NBD will keep on working hard to contribute to the prosperous side of things.
To that extent, 2020 was against many odds a great year for financial markets. The brutality of the economic shock was unprecedented, but so were the responses. From Central Banks to Governments, and including crucially, frontline workers and scientists, everything was done to limit the magnitude and duration of the damages from this historical pandemic.
Financial markets were supported by the collapse in interest rates. They reflected it in higher valuation multiples, which apply to strongly recovering earnings for 2021 as vaccinations have now started everywhere. We have been extremely active in our tactical asset allocation in 2020, and are delighted to announce that our cautious, moderate and aggressive profiles have all delivered double digit returns last year: +11%, 12% and 13% respectively, in round numbers.
We enter 2021 with a reasonably optimistic stance. We expect a year of coupon-clipping in fixed income, and of capital appreciation in stocks. But if anything, 2020 has accelerated major shifts in financial markets which cannot be ignored for the long-term. This is why we have reshuffled our Strategic Asset Allocation by adding more Emerging Markets than ever, for their better fundamentals and expected returns.
We will formally issue our 2021 Outlook later this month but give you a glimpse at our new SAA in the following pages. Stay safe.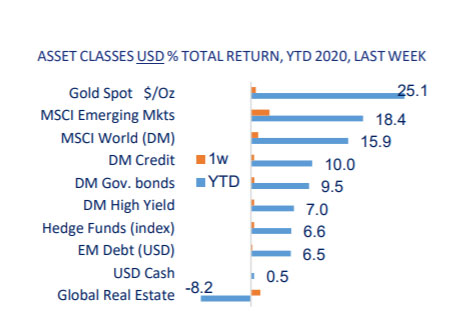 Our new Strategic Asset Allocation (SAA)
At the end of last year we went through the exercise of reassessing our Long-Term-Capital-Market-Assumptions, that is the return-risk profile expected in the next ten years for major asset classes. This non-judgmental, mostly quantitative exercise gave us an unambiguous outcome: the collapse of interest rates as well as the high valuation multiples for risk assets, especially in developed markets, have changed the investment landscape for the long-run. Sources of returns are scarcer, while potential risks have not vanished.
The bedrock of our Strategic Asset Allocation is capital preservation at a given horizon. We aim at delivering the best possible returns while limiting the risk of loss over respectively 3, 5 and 7 years for our Cautious, Moderate and Aggressive profiles. Our relative goal is also simple to express: we want to make a difference with our international competitors in difficult times, with a better protection, while not being distanced too much when markets are buoyant. We have managed so far to deliver on this promise since we reshuffled our asset allocation process back in 2018. Having said that, for the coming decade, we had to make some changes -again.
We hold the view that risk assets are borrowing returns from the future by means of ever-larger, hence most likely unsustainable, central bank interventions and through ever-growing indebtedness. One way or the other, assuming that they will be eventually delivering in line with the longer term record seems to be naïve, especially in developed markets which also show limited growth looking forward. With regards to defensive assets, most of them offer little value, sometimes negative, especially, again, in developed markets.
Emerging Markets are the answer. In order to keep a low probability of loss on a given horizon while maintaining decent expected returns, we have skewed allocations towards EM debt and stocks. We haven't changed the overall weight of asset class categories (cash, bonds, stocks, alternatives) but have increased the proportion of emerging versus developed. We also keep an important portfolio share in alternative assets.
According to our calculations, a cautious profile should be able to achieve on average a return of 3.3% yearly enduring a market volatility of 5.1%. For a moderate profile, those numbers become 4.4% and 7.6%, and for an aggressive one 5.5% and 10.2% respectively.
This new SAA has been approved by our internal committees, and implemented on December 31st. As per process, our Tactical Asset Allocation, which is the actual recommended positioning of portfolios, is reviewed every month and hasn't been changed since early December. This is why our current relative positioning, after the quarterly rebalancing of our SAA, shows a large overweight in Developed Market stocks, for example: we haven't added to them in absolute, but their weight in the SAA, our relative reference, has decreased. We will review our TAA on January 12th .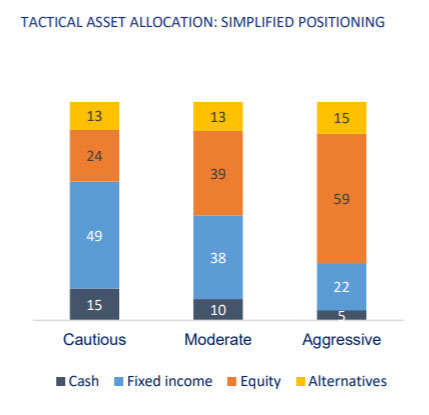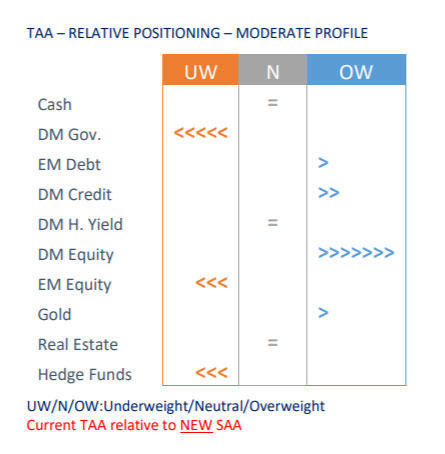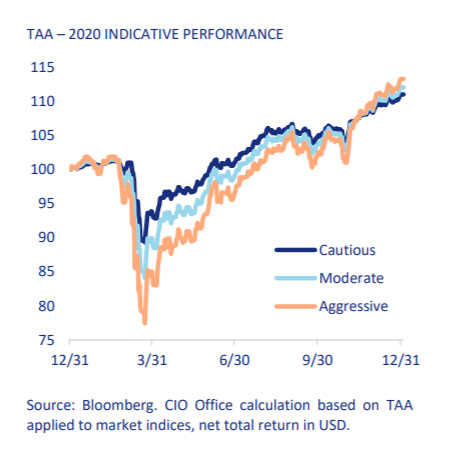 Fixed Income Update
As this is the first weekly of the year, we will focus on the broad brush strokes rather than last week's events in this edition. The events of 2020 have shaped up how 2021 is going to unfold for the fixed-income investors. Both rates and bond yields are at or close to all-time lows across the sub-asset classes in the fixed income space. The Fed's total balance sheet is at an eye-popping $7.4 Tn. Unprecedented levels of monetary and fiscal policy support are in place. Most of the major economies have approved vaccines and have started mass vaccination programs. Investors face increasing inflation expectations, a weakening dollar, and fledgling economic growth in 2021. The real challenge for the investors is how to generate decent returns given this backdrop.
We believe hunt-for-yield to continue as more than 80% of investment-grade bonds yield less than 1%. Emerging Market and High yield bonds should continue their strong performance next year. Default rates should be stable as the financing conditions have eased considerably. ESG issuance has increased, and the momentum should continue in 2021. Emerging Market primary issuance should outstrip the previous years, with MENA sovereigns leading the region's bandwagon. Some of the more attractive sectors would be the Chinese property sector, Asian HY, and LatAm GREs.
The 10-year Treasury yield ended the year at 0.91%, a full percentage point down from the December 2019 level while hitting an all-time low of 0.51% in August 2020. We have a year-end fair-value of 1.2% for the benchmark yield. The low rates and increasing yields should make developed market Govt bonds unattractive for returns and unsuitable for risk mitigation.
Bloomberg Barclays benchmark IG index OAS spreads closed at 93 bps last. The corresponding yield of 1.23% achieved on 31st Dec 2020 is the lowest ever yield for the benchmark. Consequently, this asset class will be less attractive to investors in 2021. IG issuance in 2021 should be lower than in 2020.
The spreads in HY asset class have compressed by more than 790 bps during the last months, generating excellent returns. The extensive policy support, flattening default rates, and benign financing conditions should lead to hunt-for-yield and consequently inflows into the asset class. We think HY asset class would provide the highest chance of capital appreciation to the investors.
The OAS spreads for the Bloomberg Barclays EM Bond index trades firmly below 300 bps. This would be a year of clipping the coupons in this asset class rather than capital appreciation. Higher economic growth deferential should allow EM sovereigns to easily tap the primary markets in 2021, with MENA IG sovereign issuers leading the way.. Investors would do well to participate in the primary markets where we can expect higher issuance concession from the one-off new issuers.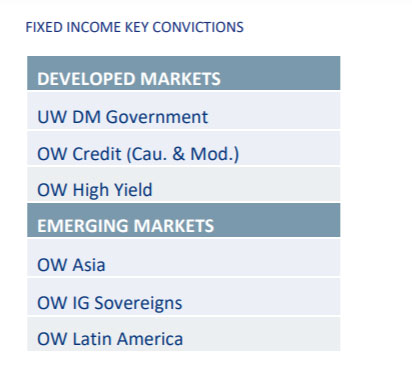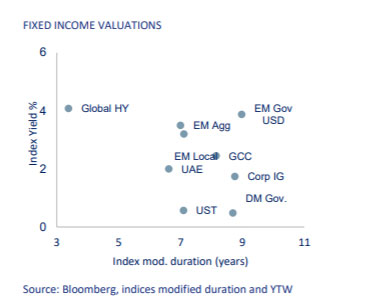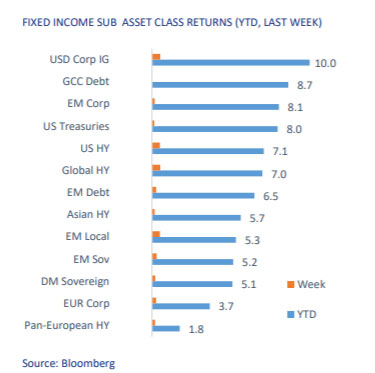 Equity Update
2020 and December ended with broad gains across most major global equity indices, supported by the US stimulus package, Brexit negotiations concluded and a demonstrable global vaccine rollout. We start 2021 with hopes of an economic recovery helped by strong fiscal and monetary support. We expect equities to continue gaining as economies revert to pre COVID levels and a low interest rate regime. Corporate earnings growth is expected to be strong and profits back to 2019 levels, which should mitigate the high valuations. However, the health crisis has taken its toll on economic growth and the new UK virus variant has led to increased lockdowns. Challenges remain and expect some pullbacks. Tech regulation is now a global concern as is cybersecurity with the increased use of the internet and accelerated digital migration. 2020 has been an unusual year and the extreme March sell off led to US equities losing 25% in 3 weeks. Global travel and airlines sector lost 70% of their revenue from Feb to Dec. All global markets were in correction territory. The equity rally from April is not an anomaly and this is a normal post-recession market. Also the rally began broadening in November, cyclicals are outperforming, yields are rising and the US Dollar is weakening, trends likely to continue this year.
Global equities were up 16.2% in 2020, with most major equity indices positive, barring the UK. The Hang Seng Index ended the year flat though China tech companies partially recovered from the crackdown from China's regulators. EM stocks +18.3% outpaced DM +15.9% and this supports our recent increased OW EM positioning. In December, EM equities gained 7.4% aided by a weaker Dollar and strong inflows. China led global equity returns consistently as the first economy to return to normal. The GCC ended flat for the year with the Abu Dhabi and KSA indices in the green and the Dubai index slightly negative at -5%. US equity indices continue a decade long rally with the Nasdaq +45% and the S&P 500 +18.4%. Leading global sectors last year were Tech, Consumer Disc., Comm Services and Materials. Laggards with negative returns are Energy, Real Estate and Financials. Tech outshone as online shopping, gaming and cloud use accelerated the shift of companies to a more digital platform. We recommend staying invested in tech but selectively and keeping an eye on the future trends i.e. 5G and EVs. Tesla entered the S&P 500 with a market cap higher than the top 7 auto manufacturers combined, as the shift to EVs accelerated. Apple added close to $ 1 trillion in market cap in 2020 closely followed by Amazon. The NYFAANG index doubled. This has raised concerns from regulatory authorities on not only their monopolistic hold in search, ecommerce and payments, but the data these companies control. Genomic stocks saw the biggest gains in 2020, at over 200%. We continue to like the broader healthcare sector and quality banks in the financial space. Growth +34.0% outperformed Value -1.2%. However, November US elections with a Democratic Biden win buoyed investor sentiment with more visibility on policy and improving global relations and a rotation to cyclical and value stocks.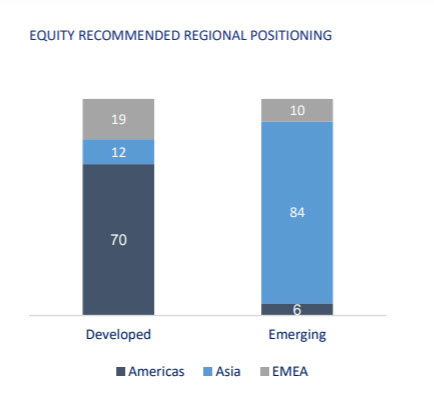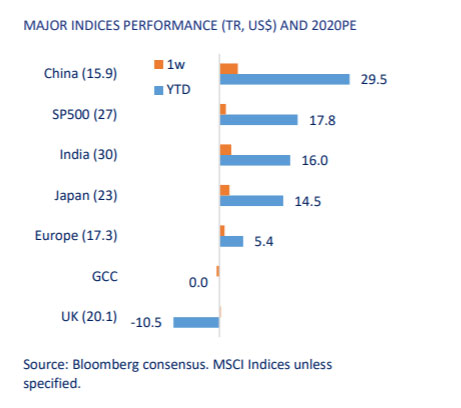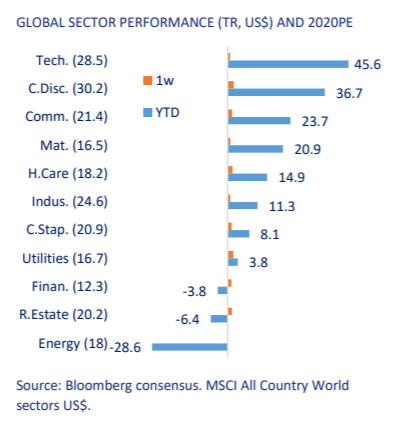 Written By:
Maurice Gravier
Chief Investment Officer,
MauriceG@EmiratesNBD.com
Anita Gupta
Head of Equity Strategy,
Anitag@EmiratesNBD.com
Satyajit Singh
Fixed Income Analyst,
SatyajitSI@EmiratesNBD.com
Giorgio Borelli
Head of Asset Allocation,
GiorgioB@EmiratesNBD.com
Disclaimer

Emirates NBD Bank PJSC ("Emirates NBD") is licensed and regulated by the UAE Central Bank and this website aims at providing Internet users with information concerning Emirates NBD Private Banking, its products and activities. Persons having access to information made available by Emirates NBD on this website accept the following rules:

Reliance:
Emirates NBD uses reasonable efforts to obtain information from sources which it believes to be reliable, however Emirates NBD makes no representation that the information or opinions contained in publications on this website are accurate, reliable or complete. Published information may include data/information from stock exchanges and other sources from around the world and Emirates NBD does not guarantee the sequence, accuracy, completeness, or timeliness of information contained on this website provided thereto by unaffiliated third parties. Anyone proposing to rely on or use the information contained on this website should independently verify and check the accuracy, completeness, reliability and suitability of the information and should obtain independent and specific advice from appropriate professionals or experts. Further, references to any financial instrument or investment product are not intended to imply that an actual trading market exists for such instrument or product. Emirates NBD is not acting in the capacity of a fiduciary or financial advisor. Any publications on this website are provided for informational purposes only and are not intended for trading purposes. Data/information provided herein is intended to serve for illustrative purposes and is not designed to initiate or conclude any transaction. The information available on this website is not intended for use by, or distribution to, any person or entity in any jurisdiction or country where such use or distribution would be contrary to law or regulation. This website and anything contained herein, is provided "as is" and "as available," and that Emirates NBD makes no warranty of any kind, express or implied, as to this website, including, but not limited to, merchantability, non-infringement, title, or fitness for a particular purpose or use.

Modifications:
The provision of certain data/information on this website is subject to the terms and conditions of other agreements to which Emirates NBD is a party. Emirates NBD reserves the right to make changes and additions to the information provided at any time without prior notice. The information may be modified or removed without prior notice. No buy or sell orders submitted via the internet or email will be accepted. In addition, the data/information contained on this website is prepared as of a particular date and time and will not reflect subsequent changes in the market or changes in any other factors relevant to the determination of whether a particular investment activity is advisable.

Liability:
Information contained on this website is believed by Emirates NBD to be accurate and true, in all material respects. Emirates NBD accepts no responsibility whatsoever for any loss or damage caused by any act or omission taken as a result of the information contained on this website. Further Emirates NBD accepts no liability for the information and opinions published on the website and is under no obligation to remove outdated information from its website or to mark it clearly as such. The information given on this website may not be distributed or forwarded in whole or in part. Accordingly, anything to the contrary herein set forth notwithstanding, Emirates NBD, its suppliers, agents, directors, officers, employees, representatives, successors, assigns, affiliates or subsidiaries shall not, directly or indirectly, be liable, in any way, to you or any other person for any: (a) inaccuracies or errors in or omissions from the information available on this website including, but not limited to, quotes and financial data; or (b) loss or damage arising from the use of this publication, including, but not limited to any investment decision occasioned thereby. or (c) under no circumstances, including but not limited to negligence, shall Emirates NBD, its suppliers, agents, directors, officers, employees, representatives, successors, assigns, affiliates or subsidiaries be liable to you for direct, indirect, incidental, consequential, special, punitive, or exemplary damages even if Emirates NBD has been advised specifically of the possibility of such damages, arising from the use of the information on this website, including but not limited to, loss of revenue, opportunity, or anticipated profits or lost business. Emirates NBD expressly accepts no liability for losses or damages of any kind arising from using or accessing this website or links to third-party websites or from viewing information on any of its web pages. Furthermore, Emirates NBD accepts no liability for any unauthorized manipulation of users IT systems. Emirates NBD expressly draws user's attention to the risk of viruses and the threat of hacker attacks

Third Party Website:
Users may be aware that Emirates NBD has no control whatsoever over third-party websites linked to or from this website and therefore accepts no liability for the content of such websites being correct, complete and legally valid for the products and services offered on such websites. Emirates NBD's express written permission must always be sought before including a link to this website on a third-party website.

Solicitation:
None of the information on this website in any way constitutes a solicitation, offer, opinion, or recommendation by Emirates NBD to buy or sell any security, or to provide legal, tax, accounting, or investment advice or services regarding the profitability or suitability of any security or investment.

Forward Looking:
The information contained on this website does not purport to contain all matters relevant to any particular investment or financial instrument and all statements as to future matters are not guaranteed to be accurate. Certain matters in this publication on the website are about the future performance of Emirates NBD or members of its group (the Group), including without limitation, future revenues, earnings, strategies, prospects and all other statements that are not purely historical, constitute "forward-looking statements". Such forward-looking statements are based on current expectations or beliefs, as well as assumptions about future events, made from information currently available. Forward-looking statements often use words such as "anticipate", "target", "expect", "estimate", "intend", "plan", "goal", "seek", "believe", "will", "may", "should", "would", "could" or other words of similar meaning. Undue reliance should not be placed on any such statements in making an investment decision, as forward-looking statements, by their nature, are subject to known and unknown risks and uncertainties that could cause actual results, as well as the Group's plans and objectives, to differ materially from those expressed or implied in the forward-looking statements. Past performance is not necessarily a guide to future performance. Estimates of future performance are based on assumptions that may not be realized.

Risk: In addition, before entering into any transaction, the risks should be fully understood and a determination made as to whether a transaction is appropriate given the person's investment objectives, financial and operational resources, experiences and other relevant circumstances. The obligations relating to a particular transaction (and contractual relationship) including, without limitation, the nature and extent of their exposure to risk should be known as well as any regulatory requirements and restrictions applicable thereto. Data included on this website may rely on models that do not reflect or take into account all potentially significant factors such as market risk, liquidity risk, and credit risk. Emirates NBD may use different models, make valuation adjustments, or use different methodologies when determining prices at which Emirates NBD is willing to trade financial instruments and/or when valuing its own inventory positions for its books and records.

Investment in financial instruments involves risks and returns may vary. Before making such an investment, investors should consult their advisers on the legal, regulatory, tax, business, investment, financial and accounting implications of the investment.

Intellectual property:
The information on this website has been developed, compiled, prepared, revised, selected, and arranged by Emirates NBD and others (including certain other information sources) through the application of methods and standards of judgment developed and applied through the expenditure of substantial time, effort, and money and constitutes valuable intellectual property of Emirates NBD and all present and future rights in and to trade secrets, patents, copyrights, trademarks, service marks, know-how, and other proprietary rights of any type under the laws of any governmental authority, domestic or foreign, shall at all times be and remain the sole and exclusive property of Emirates NBD and/or other lawful parties and you acknowledge that you have no ownership rights in and to any of such items. Except as specifically permitted in writing, the information provided in this website shall not be copied or make any use of any information on this website or any portion of the intellectual property rights connected with this website, or the names of any individual participant in, or contributor to, the content of this website, or any variations or derivatives thereof, for any purpose. Further you shall not use any of the trademarks, trade names, service marks, copyrights, or logos of Emirates NBD or its subsidiaries in any manner which creates the impression that such items belong to or are associated with you or, except as otherwise provided with Emirates NBD's prior written consent,

Confidentiality:
The information on this website solely for non-commercial use and benefit and the use of this information is not intended for resale or other transfer or disposition to, or use by or for the benefit of, any other person or entity. Information contained in this website shall not be used, transferred, distributed, reproduced, published, displayed, modified, create derivative works from any data contained on this website or disposed of in any manner that could compete with the business interests of Emirates NBD. Any part of this website may not be offered for sale or distribute it over any medium including but not limited to over-the-air television or radio broadcast, a computer network or hyperlink framing on the internet without the prior written consent of Emirates NBD. The information contained on this website may not be used to construct a database of any kind. The data on this website shall not be used in any way to improve the quality of any data sold or contributed by you to any third party.

Recipient Acknowledgements
In accessing this website, you acknowledge and agree that there are risks associated with investment activities. Moreover, you agree that your use of this publication is at your sole risk and acknowledge that the responsibility to obtain and carefully read and understand the content of documents relating to any investment activity described on this website and to seek separate, independent financial advice if required to assess whether a particular investment activity described herein is suitable, lies exclusively with you.