Emirates NBD contributes AED 500,000 to Al Jalila Foundation
Campaign encouraged UAE community to share in fasting experiences during the Holy Month
Bank matched each new challenge with donation
Dubai, UAE, 29 June 2021: Emirates NBD, a leading banking group in the MENAT (Middle East, North Africa and Turkey) region, brought together cultures and communities to safely share in the true spirit of Ramadan and make a difference through its #FastWithFriends social media challenge.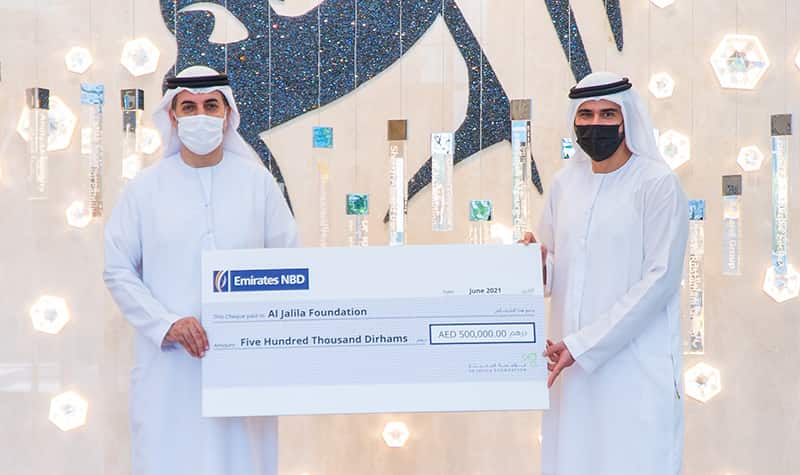 Following the success of the virtual campaign which ran throughout the Holy Month, the bank contributed AED 500,000/- to the Al Jalila Foundation. Over a 1,000 people across different nationalities and cultures in the UAE participated in the social media challenge.
#FastWithFriends encouraged people from all cultures and faiths in the UAE to learn more about Ramadan and the importance of fasting by joining their Muslim friends in the experience for a day.
For each day that a fellow non-Muslim chose to fast with a friend and share their journey via Facebook, Twitter, Instagram or TikTok using the hashtag '#FastWithFriends', Emirates NBD donated AED 100/- to Al Jalila Foundation and in the final week of the Holy Month, the bank increased contributions to AED 1,000/-.
Dr. Abdulkareem Sultan Al Olama, CEO of Al Jalila Foundation, "We are delighted by the continued success of our partnership with Emirates NBD and our combined efforts to make a difference in the community. Through the unique fundraising initiative #FastWithFriends, Emirates NBD raised awareness on the values of Ramadan whilst dedicating funds to give patients the greatest gift of all, the gift of health. The initiative brought together people from all walks of life to give hope and healing to those in need. It is through the generous support of industry leaders, like Emirates NBD, that we are able to do the work we do at Al Jalila Foundation to transform lives. We are proud to see the name of Emirates NBD on the Bassmat Rashid Bin Saeed donor recognition wall* alongside fellow Champions of Hope."
"We are delighted to have witnessed such strong participation in our #FastWithFriends campaign and to see the extensive support for the cause. As a leading UAE bank, we aim to continue to strengthen our commitment to the UAE community and look forward to continue to lead initiatives that bring citizens and residents together for a good cause." said Marwan Hadi, Executive Vice President and Head of Retail Banking, UAE at Emirates NBD
*Al Jalila Foundation's Bassmat Rashid Bin Saeed pays tribute to the philanthropic legacy of the late Sheikh Rashid Bin Saeed Al Maktoum. The first-of-its-kind donor recognition wall brings philanthropy and technology together to celebrate donors and their contributions to medical innovation to improve lives.