Emirates NBD Group recognised at Gulf Customer Experience Awards
Bank wins four awards, recognised for transformational efforts towards customer service excellence
Dubai, 24 February 2019: Emirates NBD, a leading bank in the region was recognised for its efforts towards enhancing customers' banking experience at the recently held Gulf Customer Experience Awards.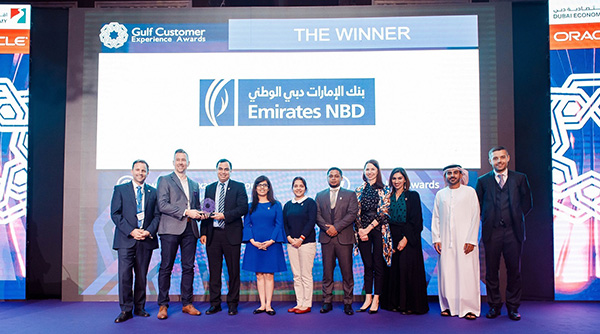 Competing against the region's most prominent companies from diverse industries, Emirates NBD secured awards in four categories: Business Change and Transformation, Best CX Strategy, Customer Complaints and Customer Experience Team.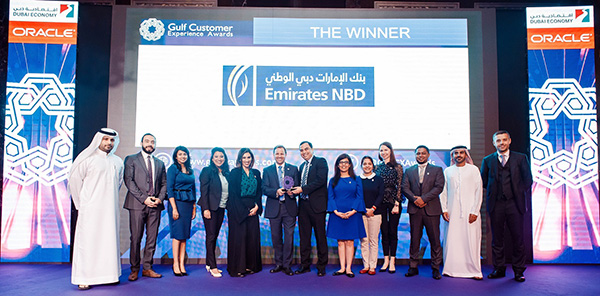 The awards recognised the bank's customer-centric ethos and championing of excellent customer experience as a key driver for business success. In recent years, the bank has made investments towards customer service excellence focusing on both cultural re-engineering programmes for employees as well as adopting technology-driven solutions to enhance and simplify customer engagement points.
Commenting on the win, Suvo Sarkar, Senior Executive Vice President and Head of Retail Banking & Wealth Management, Emirates NBD said: "We are proud to be honoured with four prestigious awards this year. Providing a superior customer experience has been at the core of our business model and corporate culture, and this recognition is testament to Emirates NBD's commitment towards delivering unparalleled customer service. We will continue to invest in our customer experience strategy in order to adapt and cater to the evolving needs of the market."
Emirates NBD's ongoing customer service enhancement is driven by the bank's overall vision statement: "Every day we make our customers' lives simpler by providing solutions that help them fulfil their financial aspirations", supported by the core values of 'Customer Focus' and 'Service Excellence' at the top of the pyramid.
The Gulf Customer Experience and Digital Experience Awards celebrate and recognise the very best across multiple categories. The programme is supported by the Department of Economic Development (Dubai) along with respected thought‐leaders in customer and digital experience from across the region. The awards aim to support organisations and businesses as a vehicle for sharing best practices and for promoting continuous improvement, learning and personal development.