Emirates NBD recognized as 'The Innovator' in the Middle East by Global Finance
Dubai, November 11th, 2018: Emirates NBD, a leading financial institution in the Middle East has been adjudged 'The Innovator' in the Middle East at the Global Finance World's Best Consumer Digital Banks in the ME Awards 2018 held in Dubai last month.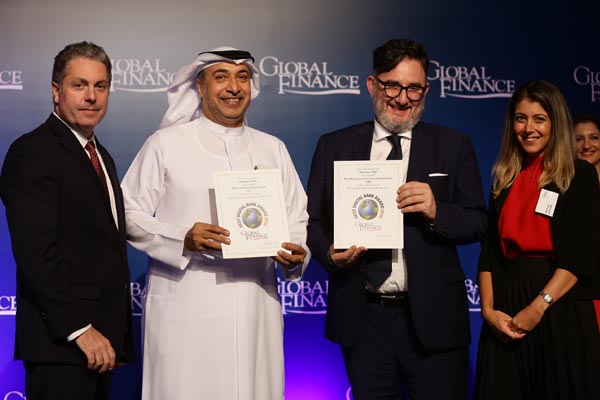 The bank was also recognised as the 'Best Consumer Digital Bank' as well as offering the 'Best Integrated Consumer Banking Site', in the Middle East and in the UAE, in view of its market-leading digital innovations designed to deliver seamless and hassle-free banking experiences to its customers.
Further, Emirates NBD also won the 'Innovator Award for Paperless Personal Loan' application enabling customers to sign up for a loan, either through tablets or at the branch, without providing or signing a single piece of paper. Three out of four personal loan applications approved by the bank are today completely paperless with customers also able to sign up for a new account, credit card or an investment portfolio fully digitally.
Last but not the least, Liv., the mobile only bank by Emirates NBD for millennials was adjudged the 'Most Innovative Digital Bank in the UAE' for its lifestyle centred offering that has made it the bank of choice for the younger generation, and the fastest growing bank in the country today.
Commenting on the win, Suvo Sarkar, Senior EVP & Group Head - Retail Banking and Wealth Management, Emirates NBD said, "Innovation in the digital space has been one of the key reasons for our success in attracting new customers, who today demand banking services that are designed to fit their busy lives. We are delighted with the recognition of our efforts by Global Finance and will continue to leverage our digital expertise to offer customers future-ready banking solutions."
A front-runner in digital banking innovation, Emirates NBD has undertaken numerous initiatives as part of its transformation to become a more digitally focused financial institution by consciously cultivating an environment of innovation. The bank will soon make available Chat Banking via WhatsApp in the UAE, allowing customers to carry out daily banking activities through the popular messaging platform.