Emirates NBD's 'Tech+Touch' banking experience recognised at Gulf Customer Experience Awards
Dubai, 14 February 2018: Emirates NBD, a leading banking group in the region, was recognised for its superior customer banking experience at the recently held Gulf Customer Experience Awards 2018.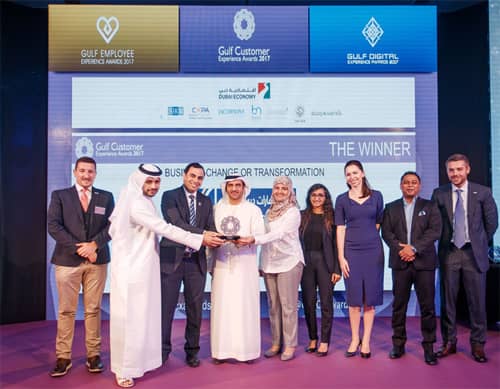 The Bank was commended for its high Tech + high Touch approach, which seamlessly combines digital banking solutions with personalised advisory and human interaction.
Over the past year under its AED 1 billion investment, Emirates NBD has continued a digital transformation of its back-end and front-end processes, including revamping branches and online and mobile platforms to offer an integrated, omnichannel customer experience.
The Bank started the year with the launch of Liv., the UAE's first digital lifestyle bank to cater to the millennial population, followed by the introduction of SkyShopper, the region's first exclusive e-commerce portal offered by a bank, and later launched FaceBanking, a first-to-market video and live chat offering between customers and bank advisors. The Bank also recently introduced its new 'paperless digital branch' concept at the Dubai World Trade Centre, to automate transactional services, allowing for self and assisted service, while training branch ambassadors in offering customers a more personalised and advisory branch experience.
Commenting on the win, Suvo Sarkar, Senior EVP – Head of Retail Banking & Wealth Management, Emirates NBD said: "We are incredibly proud to be honoured for a category that we believe so strongly in. Offering UAE's residents a superior, unparalleled customer experience is the core tenet of Emirates NBD's business model, and we continue to invest in those areas of growth that adapt and cater to the evolving needs of our customers. Over the past year, we have built on our digital capabilities to offer several first-to-market innovations including Liv., FaceBanking, SkyShopper and introducing an entirely new branch concept that makes banking simple and easy, with a strong focus on advisory services. Going into 2018, we will continue to innovate to bring to our customers products and services which enable a healthy and hassle-free banking lifestyle."
The Gulf Customer Experience and Digital Experience Awards celebrate and recognise the very best across multiple categories. The programme is supported by the Department of Economic Development (Dubai) along with respected thought‐leaders in customer and digital experience from across the region. The Awards aim to support organisations and businesses as a vehicle for sharing best practice and for promoting continuous improvement, learning and personal development.