Emirates NBD awarded Most Innovative Financial Services Organization of the Year Banks wins top honor at BAI Global Innovation Awards
Emirates NBD, a leading bank in the region, has been declared the Most Innovative Financial Services Organization of the Year at the BAI Global Innovation Awards held recently in Atlanta, USA.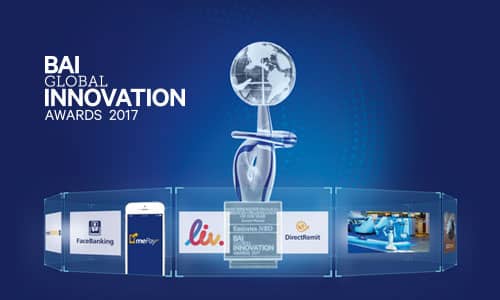 Now in its seventh edition, the BAI Global innovation Awards are widely recognized as the world's premier financial services innovation awards program. Run by BAI, a nonprofit and independent organization that serves financial institutions from all over the world with educational programs, research and organizing leading events, the awards recognize banking institutions changing the face of the global financial services industry.
In addition to winning the top honor, Emirates NBD was a finalist in six innovation-led categories including: Product and Service Innovation for Liv., its digital bank for millennials; Channel Innovation for Mobile Banking; Innovation in Marketing for its high-impact promotional campaign with Uber during Ramadan; Internal Process Innovation for the bank's state of the art CRM; Innovative Accelerator or Incubator for the bank's multi-dimensional approach to fostering innovation through incubation, eco-system development and encouraging internal and external innovators; and Breakthrough Collaboration in Financial Services for being the first UAE bank to successfully launch a pilot blockchain network for financial services, in partnership with ICICI Bank.
Commenting on the honor, Shayne Nelson, Group CEO, Emirates NBD said, "We see innovation as a key differentiator in our journey to be a customer centric organization as we continue to lead the digitization and innovation agenda for the region. Several of our most successful banking solutions can be attributed to our strongly rooted culture of innovation and we are honoured to be recognised for our efforts by a reputed global institution such as BAI."
Added Suvo Sarkar, Senior EVP & Group Head – Retail Banking and Wealth Management, Emirates NBD, "As the bank responsible for pioneering several payment, service and channel innovations in the UAE and the region, we are truly excited to be recognized on a global platform. This award provides us further impetus to continue to re-imagine banking in the region by leveraging digital technologies along with our deep understanding of customers' banking needs, to provide them with simpler yet enriching financial solutions."
A front-runner in digital banking innovation, Emirates NBD has undertaken several initiatives as part of its digital transformation journey and commitment to foster an innovation culture. In 2016, the bank opened the region's first futuristic banking space at Emirates Towers, Dubai, featuring Pepper, an AI powered humanoid robot as well as showcasing emerging breakthroughs in banking and payment technology. To drive its digital strategy for both customer facing and back end operations, the bank also set up the Emirates NBD Future Lab™ which fostered several of the bank's new innovations including Liv., the UAE's first digital bank targeted at millennials launched earlier this year.
The bank has signed a premier partnership agreement with the prestigious Expo 2020 Dubai to become its official banking partner, and will offer a range of innovative financial products and services to visitors, participants and organisers of the global event. The bank also recently announced a planned investment of AED 1 Billion over the next three years to carry out a digital transformation program.