Emirates NBD named 'Banking Company of the Year' by Gulf Business
Bank wins prestigious title for second consecutive year
Dubai, 12 September, 2017: Emirates NBD, a leading bank in the region, took home the title of 'Banking Company of the Year' at the annual Gulf Business Awards. Recognised for its strong financial performance and continued commitment to the digitalisation of banking services in the UAE, the bank received the prestigious honour for the second consecutive year.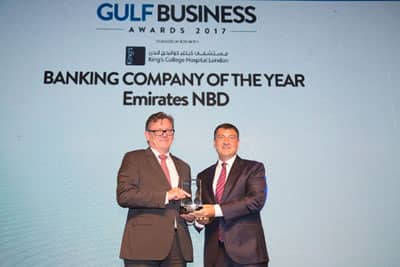 Emirates NBD was awarded for its record positive financial performance in the past year. In the first half of 2017, the bank delivered outstanding results with net profit of AED 3.9 billion, up by 5% for the same period in 2016. The bank also reinforced its position as the region's digital banking leader with the launch of Liv., the UAE's first digital-only banking proposition catered for millennials, FaceBanking, a video banking facility that allows eligible customers to talk to an advisor at any time for banking transactions or assistance, and SkyShopper, an exclusive e-commerce platform for its customers. The bank also recently announced a planned investment of an additional AED 1 billion over the next three years to further its digital transformation program.
Commenting on the win, Shayne Nelson, Group CEO of Emirates NBD said: "In the face of economic uncertainty, Emirates NBD has delivered a record financial performance in the first half of 2017. With major investment allocated towards our digital banking services, we have succeeded in differentiating ourselves from our competitors and offering customers a truly superior banking experience. We would like to thank Gulf Business for recognising Emirates NBD's achievements for the second year in a row, and will continue to innovate and grow to maintain our leading position in the years ahead."
Hosted by Gulf Business, the Gulf Business Awards are judged by an independent panel and public voting, and celebrate excellence in the corporate world, recognising companies and business leaders across nine industries. Seen here in the picture is Shayne Nelson, CEO of Emirates NBD, accepting the award at the ceremony which took place at Fairmont The Palm hotel.