Emirates NBD named Best Retail Bank in the Middle East by Asian Banker
Also wins Best Digital Bank in the Middle East and three other awards
Dubai, 27 April 2017: Emirates NBD, a leading banking group in the region, was recognized as the Best Retail Bank in the Middle East for 2017 at The Asian Banker Middle East Awards for Excellence in Retail Financial Services. The bank won the award for its robust financial performance, registering a strong growth in operating profit and a declining cost-to-income ratio. Last year, the bank's Retail Banking division grew faster than market across most product categories, gaining market share.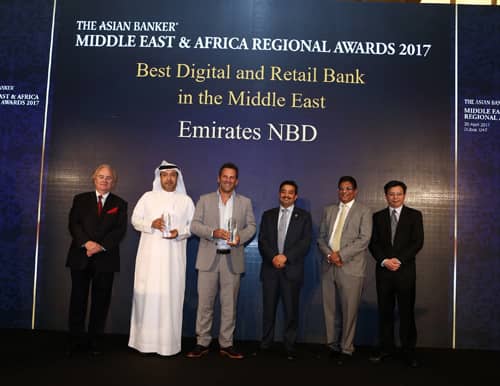 The Asian Banker Middle East awards also recognized Emirates NBD for being the Best Digital Bank, Best Mobile Payment Product, Best Mobile Payments Project and Best Branch Automation Project in the Middle East.
Commenting on the win, Suvo Sarkar, Senior Executive Vice President & Group Head – Retail Banking and Wealth Management, Emirates NBD said: "Emirates NBD has continued to build and develop its strengths in the areas of technological innovation and customer care to become a formidable player in the region's retail banking space. Guided by customer requirements and needs, we consistently introduce increasingly sophisticated digital solutions for the new age banking customer in the UAE, with the objective to become the preferred banking partner for our customers. We are honoured to be recognized as the Best Retail Bank in the Middle East, in addition to receiving four awards for our efforts in digital and mobile banking."
Emirates NBD continued to lead the market on innovation and digitization, providing customers with enhanced value, easier access and a better user experience. From its Emirates NBD Future Lab™ innovation centre, the bank introduced several first-to-market solutions such as Emirates NBD Pay, a contactless payment service allowing customers make in-store purchases instantly via their mobile banking app, mePay that allows customers to transfer cash to a friend instantly across the UAE, and Timesavers, a tablet banking app that fast tracks customers from queues and services specific requests instantly.
The bank opened the region's first Branch of the Future at Emirates Towers, Dubai, featuring Pepper, an artificial intelligence robot as well as showcasing emerging breakthroughs in banking and payment technology. EVA, the region's first intelligent voice-based and chatbot virtual assistant was launched and the bank's widely popular 60-second DirectRemit service extended to new corridors including Egypt and Sri Lanka.
Earlier this year, Emirates NBD also launched Liv., the UAE's first digital bank targeted at millennials. Liv. is aimed at providing a differentiated digital experience for a new generation of customers, empowering them in their daily lives, learning and adapting to their individual preferences, and providing a banking platform that is intuitive and simple to use.
Over the past year, Emirates NBD has successfully integrated its banking products and services on its digital platforms leading to over 90% of the bank's transactions being conducted outside the branch.

"To offer customers a truly automated front-end banking experience, we have digitalized our back-end operations to offer customers a hassle-free, seamless and paperless banking experience. With the introduction of the enhanced Customer Relationship Management (CRM) cockpit application, Emirates NBD has become a smart bank, aligned with the UAE's vision of transforming into a smart nation," added Sarkar.
Earlier this year, Emirates NBD was also awarded the Asian Banker Best Auto Loan Product of the Year 2017.
A rigorous and transparent awards programme, the Asian Banker's Middle East & Africa Awards evaluated more than 50 financial institutions in the region via a distinguished Council of Advisors. The award programmes are run by a team or research managers who conduct extensive desk and field research, including many hours of interviews with shortlisted candidates. Each programme is predicated by a clear methodology and transparent score cards which are published and shared with the banking industry.