Emirates Real Estate Fund wins Sector Fund of the Year
Emirates NBD Asset Management's Emirates Real Estate Fund among winners at 2017 MENA FM Performance Awards
Dubai, United Arab Emirates, 1st February 2017: Emirates NBD Asset Management's Emirates Real Estate Fund ('EREF' or the 'Fund') has won Sector Fund of the Year at the 2017 MENA FM Performance Awards for the second consecutive year. The MENA FM Performance Awards recognised funds and asset managers that have outperformed their peers over the 12 month period ending on 31 December 2016.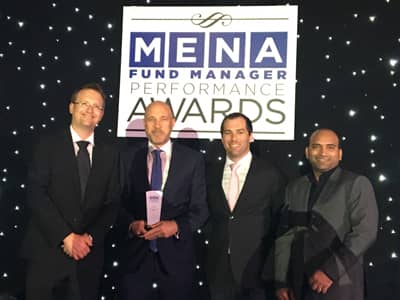 EREF is a Shari'a compliant real estate fund focused on investing in income-generating real estate assets. The Fund is managed by Emirates NBD Asset Management, a wholly owned subsidiary of Emirates NBD Bank. The properties in EREF's portfolio were valued at approximately US$314 million at 30 September 2016.
The MENA FM Performance Awards, now in their eighth year, were held at the Ritz Carlton on 31 January 2017, celebrating excellence in the fund and asset management industry. Funds managed by Emirates NBD Asset Management were also nominated for Fixed Income Fund of the Year, MENA Equity Fund of the Year and Fixed Income Shari'a Fund of the Year.
Commenting on the win, Tariq Bin Hendi, CEO of Emirates NBD Asset Management, said:
"We're delighted that the Emirates Real Estate Fund has claimed Sector Fund of the Year for the second time. This reflects the strengths of our team and their continued commitment to delivering strong returns to investors. Dubai's real estate market has experienced a period of stabilisation and we believe the time is ripe for investment. In the last two and half years, the Fund has invested over US$160 million in real estate acquisitions."
In 2016, EREF enjoyed strong occupancy growth across a number of its key assets, successfully doubling occupancy in its Burj Daman asset, situated in the Dubai International Financial Centre. As at 1 January 2017, EREF's residential and commercial property portfolios reached 95% and 78.6% occupancy respectively, with a blended occupancy rate of 86.8% across the Fund's full portfolio.
Bin Hendi concluded:
"Looking ahead, we are committed to enhancing the diversity of the Fund through strategic acquisitions that will boost value and maximise potential returns. EREF is keen to capitalise on international companies choosing the UAE as a base for regional expansion, and therefore seeking high quality commercial property. We're also looking at acquisitions in alternative real estate assets including industrial, healthcare, education and hospitality."