Emirates NBD honoured for Emiratisation efforts with HRD award in banking and financial sector
Dubai, 10 February 2016: Emirates NBD, a leading bank in the region, has been awarded the Human Resource Development Award in the banking and financial sector by EIBFS (Emirates Institute of Banking and Financial Studies) in recognition of its commitment to Emiratisation and for successfully achieving its nationalisation target for the year 2015.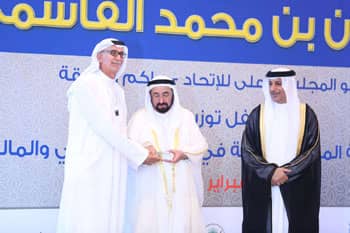 The award was presented by H.H. Dr. Sheikh Sultan bin Mohammed Al Qasimi to Husam Al Sayed General Manager HR, Emirates NBD at the 18th National Career Exhibition at Sharjah Expo Centre. This year, Emirates NBD marks its 18th consecutive participation at the National Career Fair, with several programmes planned to engage UAE National talent seeking to establish a career in the banking industry.
Commenting on the award, Maryam Bahlooq, Head of Business Partnership, Emirates NBD said: "We are honoured to be recognised for our Emiratisation efforts by EIBFS. As a leading bank in the UAE, we are committed to supporting the UAE's drive towards Emiratisation by fostering national talent within the bank and enabling future leaders of the UAE economy. A strong UAE national leadership has been critical to the bank's success over the years and we take pride and responsibility in our continued contribution to the development of a national workforce."
As part of its Emiratisation strategy, Emirates NBD runs a series of employment training programmes which reflect the bank's strong commitment to nurturing young Emirati talent. Menha by Emirates NBD is a scholarship programme that provides financial support to UAE national students, while opening doors to future career opportunities at Emirates NBD. The bank's Programme for Accelerated Learning (PAL) which crossed a ten-year milestone in 2015, provides world-class training over to college graduates who aspire for a career in the high growth banking sector. In addition, the bank runs Al Misha'al, a programme that inducts high school graduates into the bank following three months of rigorous training in various job-related subjects such as banking operations, branch automation, and customer service, among others.