Emirates NBD sets example in corporate citizenship; recognised for Partnerships and Collaborations at Arabia CSR Awards 2015
Dubai, 23 November, 2015: Emirates NBD, a leading financial institution in the Middle East, announced today that it has received the Arabia CSR Awards in the Partnerships and Collaborations category. The banking group was commended for its strategic partnership with Manzil's PRIDE (People Receiving Independence and Dignity through Empowerment) programme, as part of 'Together Limitless', the bank's advocacy platform for people with disabilities.
The award was presented to Maryam Bahlooq, Head of HR Business Partnership, Emirates NBD, at the eighth annual Arabia CSR Awards ceremony, held in Dubai under the auspices of the League of Arab States for the second year in a row.
"This industry recognition is an important milestone in Emirates NBD's burgeoning Together Limitless initiative. We would like to thank the Arabia CSR team for their leading role in championing and recognising the efforts of CSR and sustainability advocates in MENA," said Husam Al Sayed, General Manager Group Human Resources at Emirates NBD.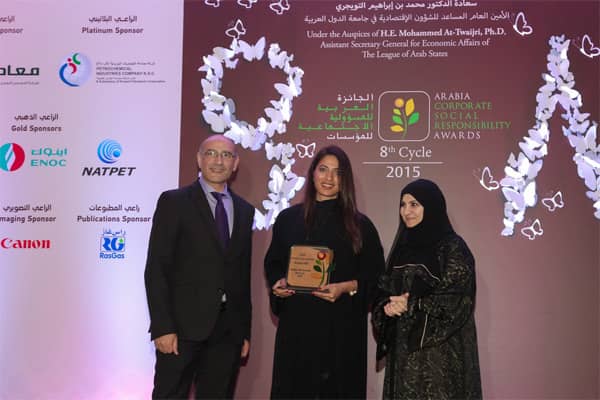 "As a homegrown organisation, Emirates NBD is deeply committed to the local community. We truly believe that a business cannot consider itself truly successful unless it is able to support and empower the community in which we serve. Through our collaboration with like-minded individuals and entities such as Manzil, we hope to drive increased awareness on the importance of advocating for people with disabilities across the region," added Al Sayed.
Emirates NBD's commitment to the PRIDE programme runs deep and parallel to its wider Together Limitless platform. The bank has embedded its commitment in its segments, products and services and is the primary volunteer provider, main corporate attaché for inclusion through jobs, learning and development, and also the promoter of Together Limitless. The PRIDE programme has already benefited 1920 individuals through capacity building workshops and 7230 individuals through Inclusion and therapy sessions. In addition, the bank has advocated via widespread media and network outreach to over 1.2 million of its customers, creating an imprint of over 6 million individuals for PRIDE.
The Arabia CSR Awards are the Arab region's premier CSR and sustainability accolade with a rigorous and comprehensive criteria designed to integrate the inherent principles and frameworks of the United Nations Global Compact (UNGC), Global Reporting Initiative (GRI), and EFQM Excellence Model. Over the course of seven years, the awards have mobilised hundreds of businesses from diverse sectors and industries and created positive impact of immense magnitude on the region's sustainable development. The awards have been supported by the UNGC since inception in 2008 and in 2014, were held under the auspices of the League of Arab States for the first time.