Emirates NBD named Outstanding Private Bank Middle East by Private Banker International
Bank also highly commended for Outstanding NRI/Global Indians Offering
Dubai, 28 October, 2015: Emirates NBD, a leading bank in the region today announced that its Private Banking division was named 'Outstanding Private Bank – Middle East' at the 2015 Private Banker International Global Wealth Awards. The bank was also highly commended for 'Outstanding NRI/Global Indians Offering' at the awards ceremony.
The awards, among the most prestigious in the global private banking industry were presented to Dr. Brian Shegar, Head of Asia Pacific and General Manager of Emirates NBD Singapore, at a distinguished ceremony at The Fullerton Hotel, Singapore. The awards ceremony was held on the side-lines of the 25th edition of the Wealth Summit organised by Private Banker International (PBI), the leading journal for the global wealth management industry.
Commenting on the distinction, Michael Chahine, General Manager Private Banking said: "These awards are a reflection of the maturity of our private banking platform. With a firm focus on superior investment strategies and excellent customer service, Emirates NBD has created a distinct private banking platform that stands out against local, regional as well as international competitors in the Middle East."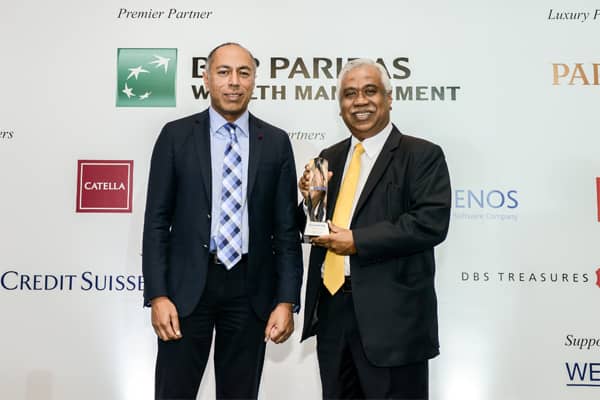 Entries to the Private Banker International Global Wealth Awards are assessed by an independent panel of judges, comprising independent specialists in wealth management, the PBI editorial staff, as well as the worldwide readership of PBI. Organised by Timetric, the PBI Global Wealth Awards recognise the best-in-class among competing global wealth players.
Saod Obaidalla, Head of Private Banking for the Gulf Region at Emirates NBD added, "This industry recognition has been awarded based on our client-centric investment advisory model and our wealth of expertise in the region. Our integrated Wealth Management Advisory model – combining the expertise of Private Banking, Asset Management and Brokerage services, in close collaboration with Investment Banking – allows us to successfully meet the needs of a diverse group of clients. We have also leveraged the use of innovative client interaction channels and technology, leading us to successfully launch several first-to-market initiatives in 2014."
Emirates NBD Private Banking currently has dedicated office in Dubai, Abu Dhabi, Riyadh, London and Singapore, and is part of Emirates NBD, the leading banking group in the region and a major player in the UAE Wholesale Banking arena with strong Islamic Banking, Global Markets & Treasury, Investment Banking, Asset Management and Brokerage operations.