Emirates NBD named Best Retail Bank in the Middle East and the UAE by the Asian Banker
Awards in recognition of bank's focus on customer experience and innovation
Recorded impressive growth in 2014 with revenues hitting an all-time high for Retail Banking
Retail Banking division grew at a faster rate than the market in key product groups in 2014
Dubai, March 30, 2015: Emirates NBD, a leading bank in the region, today announced that it has been named the 'Best Retail Bank in the Middle East' and 'Best Retail Bank in the UAE' at The Asian Banker's International Excellence in Retail Financial Services 2015 awards ceremony, held in conjunction with the region's most prestigious retail banking event, The Excellence in Retail Financial Services Convention. The awards were presented to Emirates NBD at a ceremony held recently in Singapore.
Emirates NBD received the awards in recognition of its impressive financial performance showcased in 2014. The bank's Retail Banking and Wealth Management division recorded all-time revenue growth to reach AED 5,621 million. Commission and fee income have become a major source of revenue and account for more than a third of all income. The bank built up additional liquidity in 2014 through low cost current and savings accounts. Deposits grew 12 per cent in 2014 to reach AED 113.5 billion, growing at a faster rate than the market.
During 2014, Emirates NBD continued to shine in a competitive market place, and has distinguished itself as a market leader with all-round impressive performance across parameters. The bank's first to market innovations such as the 'Shake n' Save', a gamified mobile application to promote a savings culture in the UAE; instant remittance tool DirectRemit; and MePay, a free peer to peer money transfer platform have strengthened its position as an innovator in the retail banking space.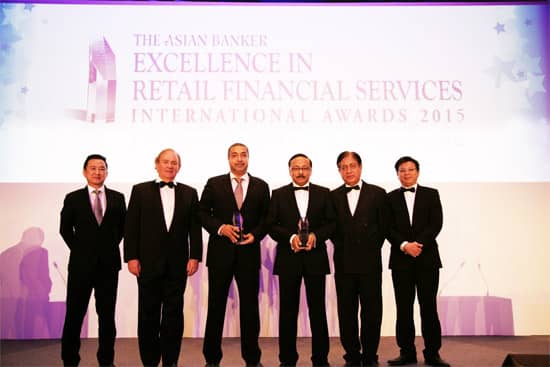 Accepting the awards on behalf of the bank, Suvo Sarkar, General Manager – Retail Banking and Wealth Management, Emirates NBD, said: "We are proud to be recognised as the Best Retail Bank for the UAE and the wider Middle East region, at one of the most prestigious retail banking events in Asia. These awards validate our relentless efforts to identify gaps in the market and introduce frictionless solutions that address the biggest customer concerns. This has led us to outperform regional peers across all major parameters, maintaining double-digit growth both in our top-line and bottom-line. More importantly, we have achieved all these while being focused on 'Responsible Banking,' the unifying idea that allows us to inform and educate the UAE population on good financial management."
In addition to the Best Retail Bank awards, Emirates NBD also won the 'Best Automobile Lending Business' award for 2015. In the past few years, Emirates NBD has differentiated itself by achieving customer satisfaction through a competitive turnaround time. Its enhanced process attracted new customers that have greatly boosted the bank's market share in the region. Through process engineering the bank reviewed and revamped all existing process flows using a LEAN approach, which helped the bank improve turnaround time by up to 70 per cent.
About 200 senior bankers from award-winning banks in 29 countries across the Asia Pacific, the Middle East, Central Asia and Africa attended the award ceremony that recognises their efforts in bringing superior products and services to their customers. The awards programme, administered by The Asian Banker and refereed by prominent global bankers, consultants and academics, is the most prestigious of its kind. A stringent three-month evaluation process based on a balanced and transparent scorecard is used to determine the winners.