Emirates NBD wins second international accolade for Mobile Banking Service
Banking Technology magazine recognised Emirates NBD for innovative smart banking solutions
Dubai, December 9, 2014: Emirates NBD, a leading bank in the region, announced today that it has been recognised for 'Mobile Banking Service' at the prestigious Banking Technology Awards 2014 held recently in London, making it the second international award the bank received this year for its mobile banking app.
Organised by Banking Technology, a leading financial technologies magazine published in London, the industry awards recognise financial services organisations that implement best use of technology solutions for attracting and servicing online customers. The accolade was received by Duncan Steele-Bodger, Country Head – United Kingdom, Emirates NBD, on behalf of the bank.
The jury at Banking Technology Awards was particularly impressed by Emirates NBD's efforts in creating a leading mobile banking app that offers a series of mobile-only propositions aimed at simplifying the everyday banking requirements of customers.
Commenting on the awards, Suvo Sarkar, General Manager - Retail Banking and Wealth Management, Emirates NBD, said: "We are delighted to have won yet another recognition for our mobile app, which reaffirms the bank's commitment to smart banking initiatives aimed at making our customers' lives simpler and more convenient. Innovative 'on the go' solutions add significant value to customers by providing increased convenience; therefore we expect mobile banking to assume central role in facilitating everyday banking requirements.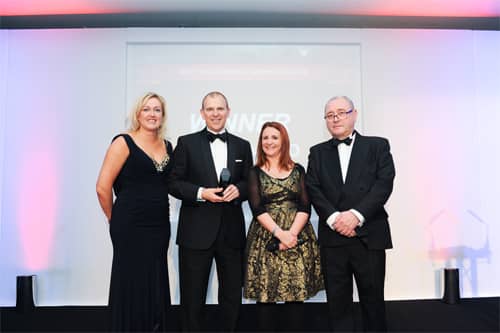 "Going forward, you will see significant changes across all our channels that will provide simpler, better and smarter banking services for our customers," Sarkar added. As part of the bank's digital banking strategy, Emirates NBD has made significant investments in new technology in the last 2 years, and has introduced an array of industry-first innovative solutions such as DirectRemit, Emirates NBD mePay, and 'Shake n Save', as well as IPO subscriptions through mobile banking.
Emirates NBD's 'Shake n' Save' product represents a new frontier of mobile-only products in the region. With this product, the bank's customers can save on impulse and earn better interest rates. The bank's DirectRemit solution enables customers to send money to India and Philippines in 60 seconds via online and mobile channels, with zero charges. mePay allows customers to send money to other Emirates NBD customers by simply using the recipient's mobile number.
These next generation of digital banking offerings have resulted in increased significant adoption by the customers. The bank's mobile banking App - available in Apple App Store, Google Play, Blackberry App World and Windows Store - is consistently ranked at the top in the Finance category in UAE App Store, with an average of 4/5 stars in customer satisfaction and over 400,000 downloads. One third of the bank's active customer base uses mobile and online banking regularly. In addition, nearly 40 per cent of the bank's active online customer base actively uses the mobile banking service to perform their banking transactions.
Earlier this year, the bank was awarded 'Best Mobile Banking App for the Middle East and Africa region' and also 'Best Consumer Internet Bank for the UAE' at the World's Best Internet Banks Award by Global Finance magazine.