Emirates NBD Securities wins 'Mobile Trading Award 2014' by DFM
Award in recognition of providing innovative trading platform via smartphone apps
Dubai, November 5, 2014: Emirates NBD Securities, a leading brokerage and financial services company in the UAE, announced that it has won 'Mobile Trading Award 2014' by Dubai Financial Market (DFM) in recognition of providing an innovative trading platform via smartphone apps.
The award was presented to Abdulla Al Hosani, General Manager of Emirates NBD Securities, by Hassan Al Serkal, Executive Vice President, Chief Operating Officer (COO), and Head of Operations Division at DFM.
Accepting the award, Abdulla Al Hosani, said: "We are proud to receive this award and sincerely thank DFM for acknowledging our efforts in creating opportunities for investors to trade with more convenience at any time and from anywhere. We are constantly striving to enhance the trading experience of our valued investors in line with advancements in technology, and introducing this trading app for Mobile phones is one of many steps we are taking in that direction."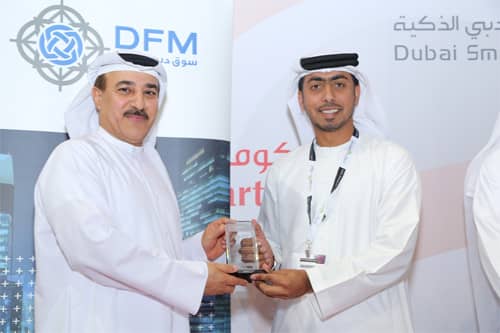 This award shows the capability of Emirates NBD Securities to provide a seamless order execution facility through its cutting-edge systems. Emirates NBD Securities focuses on providing its investors with innovative products and services which are geared by the latest technologies.