Emirates NBD Manchester United Cards named 'Best Co-brand Program' at MasterCard Innovation Forum
Fifth award win for the bank's partnership with Manchester United
Dubai, October 26, 2014: Emirates NBD, a leading bank in the region, today announced that the Emirates NBD-Manchester United partnership was awarded the 'Best Co-brand Programme' at the MasterCard Innovation Forum 2014 recently held in Singapore.
Emirates NBD's partnership with Manchester United, which was signed in September 2013, has been widely recognised as one of the most successful sports affinity partnerships that the football club has signed across the world, with fans being offered exciting benefits when they apply for the co-branded cards.
The MasterCard award recognised the partnership as the first fully integrated card programme, offering the full suite of payment products such as credit, debit and prepaid cards. The strong leverage of affinity marketing, rewards at every tier linking fans to the Manchester United Club and the 360 degree marketing initiatives have resulted in a strong brand resonance with over 40,000 club fans subscribing to the programme within one year of launch.
On behalf of the bank, the award was received by R. Sivaram, Head of Retail Assets and Cards Business at Emirates NBD.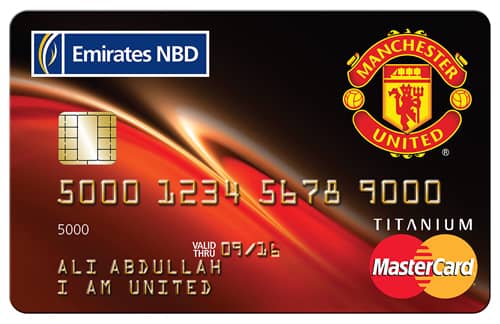 Commenting on the award win, Suvo Sarkar, General Manager – Retail Banking and Wealth Management, Emirates NBD, said: "We are extremely pleased with the support extended by MasterCard over the past years and we look forward to strengthening this partnership with more innovative and successful products. The success of the Manchester United Card programme is testimony to our commitment to work with leading partners to deliver world-class products. It is a real pleasure to receive this prestigious recognition from MasterCard."
The Emirates NBD Manchester United Credit Card has been the most successful and fastest growing new product in the region. The recognition from MasterCard is interestingly the fifth award won by the Manchester United Card programme since its launch a year ago.
Manchester United, with the largest fan following across football clubs worldwide, has a large and engaged base of nearly 1 million fans in the UAE. The Emirates NBD Manchester United Card comes with a host of money-can't-buy experiences, including a chance to win VIP trips to Old Trafford to watch Manchester United play. Customers also earn 'Red Points' as rewards for their retail spends on the card which can be redeemed for exclusive Manchester United merchandise.
Till date, two lucky winners drove home Chevrolet Camaro cars, and 21 others won all-expense paid trip to Old Trafford to watch Manchester United play in English Premiere League. In addition, 40 children were offered exclusive training sessions by official Manchester United Soccer School coaches.