Emirates NBD celebrates the Holy Month of Ramadan with community initiatives under #WelcomingBlessings campaign
Emirates NBD's popular #FastWithFriends challenge back for second year; aimed at bringing together cultures and communities to share in the true spirit of Ramadan
Emirates NBD Exchanger Programme to support people in need through volunteering activities
Dubai, UAE, 19 April 2022: Emirates NBD, a leading banking group in the MENAT (Middle East, North Africa and Turkey) region, is celebrating the Holy Month of Ramadan through several charitable and community initiatives, as a part of its #WelcomeBlessings campaign.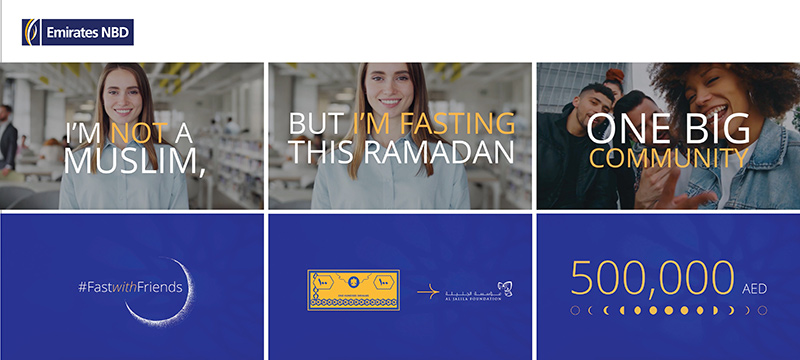 Following the success of its #FastWithFriends virtual campaign which ran throughout the Holy Month last year, the banking group has launched the second edition of the Social Media challenge, that encourages UAE community to share in fasting experiences during the Holy Month. The month-long virtual campaign encourages people from all cultures and faiths in the UAE to learn more about Ramadan and the importance of fasting by joining their Muslim friends in the experience for a day.
For each day a fellow non-Muslim chooses to fast with a friend and share their journey via Facebook, Twitter, Instagram or TikTok using the hashtag '#FastWithFriends', Emirates NBD will donate AED 100 to Al Jalila Foundation. This year, the Group aims to exceed last year's contribution of AED 500,000. As more people fast in solidarity for good, they can tag their friends to participate in the challenge via their Social Media platforms. Emirates NBD will collaborate with prominent influencers in the UAE including popular actor Amro Maskoun, motivational speaker Noor Alhuda, food blogger Zahra Abdalla, fitness trainer Riaan Barnard, personal blogger Soleen Barnard, fashion and lifestyle blogger Dana and writer Maha Gorton who will join in the challenge to further encourage the community to come together for a noble cause.
In addition to this, keeping with the spirit of giving and supporting those in need during the Holy Month, Emirates NBD Group is undertaking various community initiatives through its volunteer programme, Exchanger. Notable initiatives include a collaboration with a UAE school to support underprivileged children by sponsoring their new clothes for Eid and an Islamic art workshop for children with cognitive disabilities, where volunteers will guide them with drawing and painting activities.
As a gesture of giving back to essential workers supporting the Group, Emirates NBD is providing its support staff including security guards and cleaners with phone cards and hygiene kits. Besides this, Emirates NBD is distributing essential foodstuff to its blue-collar workers.
Launched in 2015, Exchanger, the Group's award-winning volunteering programme has been creating volunteering opportunities for employees, family and friends, and partners to exchange their time for community service and make a real difference.
Commenting on the announcement, Moadh Bukhash, Chief Marketing Officer at Emirates NBD said, "The Holy Month of Ramadan is the ideal opportunity to give back to the community, keeping with the spirit of compassion and generosity during the blessed period. It is truly gratifying to see our volunteers lending a helping hand to those in need through various community initiatives, as a part of our #WelcomeBlessgings campaign".
He added, "We are also excited to bring back our #FastWithFriends campaign for the second year, after witnessing strong participation and support for the cause."